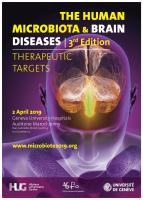 The Human Microbiota & Brain Diseases 2019
02.04.2019 13:30 – 19:00
The past two years have seen an exponential increase of lay and scientific publications on the effects of the trillions small guests that each of us more or less willingly hosts even in the most secluded and intimate folds and holes of our body. High time, given that the power house of eukaryotic cells, mitochondria, are but ancient bacteria.

Reports have been published on the association of some bacterial strains in the guts (gut bacteria being by far the most represented microbial community) on human physiology (infant growth….) and somatic diseases (obesity, alcoholism, irritable-bowel syndrome and rheumatoid arthritis) and brain diseases (depression, autism, multiple sclerosis, Parkinson's disease, Alzheimer's disease).

Reports have multiplied of animal experiments showing that some natural features (resistance to infections and carcinogenic exposures) can be transferred from one animal to another by gut bacteria transfer. Not only, but it is increasingly clear that a number of environmental events can affect the bacterial composition of gut flora (diet, physical exercise, exposure to cold), that the animals with the modified version of the gut flora acquire specific physical and behavioural features (weight changes, sociability, motor impairments), and that such features can be transferred to non-exposed animals by gut bacteria transfer.

How much of these results is journalism hype and how much is sound science? How close (or how far for that matter) are we from gut flora manipulations in humans to protect from dreaded brain diseases?

The 3rd edition of this conference, which attracted 500 participants from Europe, will try and give an answer thanks to a panel of renowned national and international experts on the microbiota and the brain.
Lieu
Bâtiment: HUG
Auditoire Jenny
Organisé par
Département de psychiatrie
Département de réadaptation et gériatrie
Evénements de la Faculté de médecine

Intervenant-e-s
Giovanni Frisoni
, Professeur, directeur du Centre de la Mémoire des HUG
entrée libre
Classement
Catégorie: Conférence
Fichiers joints

haut