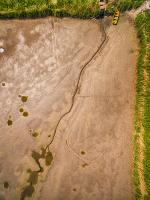 Drones for Good - Humanitarian Action From the Sky
06.12.2018 18:30 – 20:00
While drones have been strongly debated for their security and military applications, a growing community of innovators has taken advantage of this technology to improve the lives of the world's poorest and most vulnerable. From delivering blood to remote communities, automatically collecting and analysing data on migration flows, supporting disaster relief efforts to providing new insights on climate change, the use of drones to deliver goods or provide high-quality aerial intelligence is opening new opportunities to support the advancement of a wide range of key objectives identified by the U.N. Sustainable Development Goals.

What are the latest practical technological developments in the use of drones to support international aid efforts? How can policymakers, researchers, private actors and NGOs work together to maximize benefits of these technologies while minimizing the potential risks?

Patrick Meier, PhD, Executive Director of not-for-profit organization WeRobotics, will illustrate some of the latest developments in this field through practical examples. Christian Simm, PhD, CEO of swissnex Boston, will then moderate a panel discussion with representatives from UN agencies, NGOs, and academia.
Lieu
Bâtiment: Uni Bastions
Salle B106
Organisé par
Université de Genève

Intervenants
Patrick Meier
, Executive Director of NGO WeRobotics
entrée libre

haut