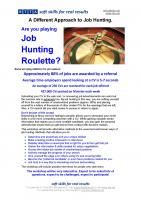 Workshop "Networking and other job-hunting soft skills"
23.10.2019 14:30 – 17:30
On Wednesday, October 23rd 2019, CISA will host the workshop "Networking and other job-hunting soft skills", taught by Robert Thompson (RTTA www.rtta.net ). Robert Thompson is the founder of RTTA, a training company for soft skills in professional settings. He has been working with researchers for over 10 years, helping them obtain new jobs and advance their careers. The workshop will take place at Campus Biotech (Geneva) from 13h30 to 17h30. For more details, please see the workshop description attached.

For those interested in attending, registration is free but mandatory. In case of large application numbers, a selection will be made based on motivation statement, with priority given to the members of the Swiss Doctoral School in Affective Sciences.

Apply at: https://formulaire.unige.ch/cisa/survey/index.php/549556?lang=en
Application deadline: October 9th
Notification of acceptance: Mid October

The members of the SDS Affective Sciences will have their travel expenses reimbursed. They can also request credit (0.2) for their participation, in the category "workshop".

Lieu
Bâtiment: Campus Biotech
H8.01 D
Organisé par
Centre interfacultaire en sciences affectives (CISA)

Intervenants
Robert Thompson
, RTTA www.rtta.net
entrée libre
Classement
Catégorie: Séminaire
Mots clés: CISA
Fichiers joints

haut