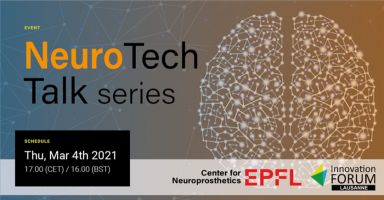 The NeuroTech Talk series
04.03.2021 17:00 – 19:00
We are thrilled to announce a new online conference series, co-organized by Innovation Forum Lausanne (IFL) and the Center for Neuroprosthetics (CNP) at EPFL: the NeuroTech Talk series, revolving around recent developments and future perspectives in the fields of neurotechnology and neuroscience.

Leaders from companies, startups and academia will present promising industrial applications in the fields of neuroscience and neuroprosthetics. Beyond the technologies behind these applications, we would like to focus on the personal and entrepreneurial challenges they faced in their journey. Speakers will share their career paths, the choices that brought them where they are today and their advice for PhD students and researchers seeking a future in the medical device industry.

The series will start on Thursday, March 4th, 2021 at 5pm CET with theInaugural Session, where Professor StéphanieLacour, Director of the CNP, will be leading the seminar and introducing the speakers:
• Claude Clément, President of the BioAlps Association and previous CTO of the Wyss Center. He will describe the state of the art of neurotechnology and its future perspective.
• Marcello Ienca, Senior Researcher at the Health Ethics & Policy Lab of ETH. He will discuss the ethical implications of advanced neuroprosthetics and responsible innovation in the emerging field of brain-machine interfaces.

Registration for the conference is mandatory and can be carried out for free here:
https://lausanne.inno-forum.org/event/neurotech-talk-series/

The link to access the online conference will be communicated after registration. Be sure to stay tuned for future events in this talk series, where we will explore topics ranging from invasive brain-computer-interfaces to sensory restoration and more.

Lieu
Online - Zoom
Organisé par
Organisations partenaires de l'UNIGE
Fondation Campus Biotech Geneva


entrée libre

haut