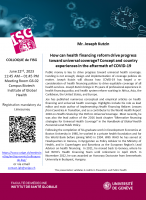 How can health financing reform drive progress toward universal coverage? Concept and country experiences in the aftermath of COVID-19
22.06.2023 11:45 – 13:45
Public money is key to drive progress toward universal health coverage. Funding is not enough; design and implementation of coverage policies do matter. Joseph Kutzin will discuss how COVID-19 has forged a re-consideration of health financing policies to drive equitable coverage of all health services. Joseph Kutzin brings in 35 years of professional experience in health financing policy and health system reform working in Africa, Asia, the Caribbean, the United States, and Europe.

Joe has published numerous conceptual and empirical articles on health financing and universal health coverage. Highlights include his role as lead editor and main author of Implementing Health Financing Reform: Lessons from Countries in Transition, and as a contributor to the World Health Report 2010 on Health Financing: the Path to Universal Coverage.  Most recently, he was also the lead author of the 2016 book chapter "Alternative financing strategies for Universal Health Coverage" in the Handbook of Global Health Economics and Public Policy.

Following the completion of his graduate work in Development Economics at Boston University in 1985, he worked in a private health foundation and for the World Bank before joining WHO in 1994. With WHO he has served at Headquarters in Geneva, in Kyrgyzstan as Policy Advisor to the Ministry of Health, and in Copenhagen and Barcelona as the European Region's Lead Advisor on health financing.  In 2011, he moved back to Geneva, where he led WHO's Health Financing Team until retirement in April 2023. In November 2012, he was awarded an Honorary Doctorate from Semmelweis University in Budapest, Hungary.


Lieu
Bâtiment: Campus Biotech
Institute of Global Health
Meeting room G6-02
Organisé par
Institut de santé globale

Intervenant-e-s
Joseph Kutzin
entrée libre
Classement
Catégorie: Colloque
Inscription
Date limite d'inscription: 21.06.2023
Registration is mandatory
Fichiers joints

haut